سْــــــــــــــــــمِ ﷲِالرَّحْمَنِ الرَّحِيم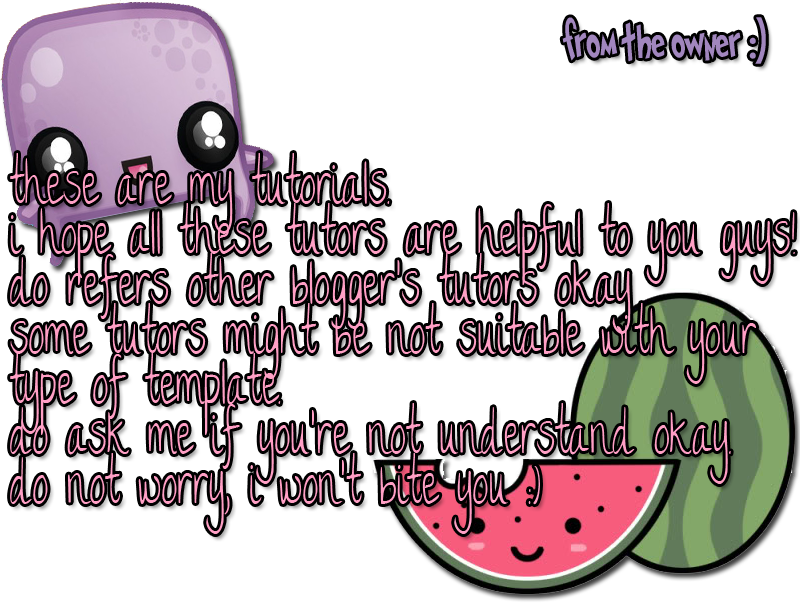 BASIC sangat-sangat!

basic : PRINT SCREEN

berapa org mai blog ceq?

beautify ur comment box

blockquote. my style

blockquote hover edisi senget !

border keliling blog

buang attribution blogger

buang verification kat comment

buka link ke new tab

Body color
cara guna blockquote. for NEW blogger
center header
center tajuk sidebar & title post
cute background
color code HTML
color chart
COPYRIGHT sendiri
cursors. BASIC
create your own CUTE cursor !

disable right click ! tamaw kasi org curik pape dlm blog

disable right click. new version
recommended by saisyahh.bs.com !

double underline

energy saving mode

enlarge picture ( AUTO )

facebook profile maker

favicon

fieldset box

fieldset box. MY NEW VERSION !

font utk post title
gojes font style
hide navigation bar
hide ur shoutbox
hover with background. recommended!
letak pic sndiri kat gadget
popup message
Print Screen FULL PAGE
rapatkan header dgn body + header mcm saya
rapatkan header dgn body. versi denim template
register shoutmix. recommended !

style your title gadget & date + time with blockquote

scrollbox

sidebar title. create sndri jeee

simple tab menu

simple doodle. NEW

single underline

signature. D.I.Y

sticky post
transparentkan gambar
tab menu mcm saya punya
tukar background. utk minima template

!
ubah background layout !
unclickable header. recommended!
FREEBIES 1
FREEBIES 2
FREEBIES FRAME SHOUTBOX
want more HOT tutors? credit to them & do visit them :